Dartmouth Health CEO and president named as one of Becker's Hospital Review's 60 most influential of 2023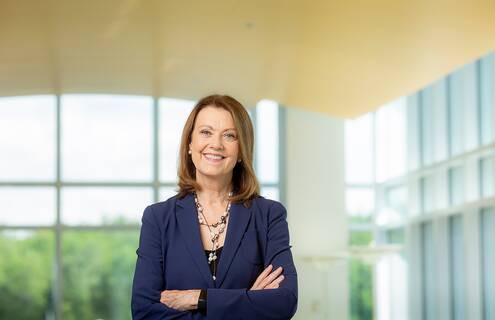 "I could not be the leader that I am without the cooperation and hard work of our teams at Dartmouth Health, and the trust they put in me to steer us toward a brighter future for our patients, staff and communities."
– Joanne M. Conroy, MD
Article by Newsroom, published on November 2, 2023
Dartmouth Health CEO and president Joanne M. Conroy, MD, was named on Becker's Hospital Review's list of 60 health system CEO influencers for 2023. The honorees selected were identified as health system CEOs who are using their considerable influence to shape the future of healthcare. Other individuals on the list include the CEOs of the Mayo Clinic, Dana-Farber Cancer Institute, the Cleveland Clinic, and Mass General Brigham.
"I'm honored to be chosen by Becker's for inclusion in this list of so many movers and shakers in healthcare that I deeply admire," Conroy said. "I could not be the leader that I am without the cooperation and hard work of our teams at Dartmouth Health, and the trust they put in me to steer us toward a brighter future for our patients, staff and communities. This truly is a great recognition of Dartmouth Health as a whole as a provider of world-class care and medical research."
An anesthesiologist by training, Conroy has served as CEO and president of Dartmouth Health since 2017. In just six years, Conroy has overseen the addition of a hospital to the health system, bringing the total to six; was named the New Hampshire Citizen of the Year by the New Hampshire Union Leader in 2021; led the system through the worst healthcare crisis of the modern era during the COVID-19 pandemic; and was named chair-elect of the board of trustees of the American Hospital Association, her term set to begin in 2024.
In selecting CEOs to include in its annual list, Becker's considered healthcare system leaders who discuss public health issues, share the results of successful initiatives, implement new models of care, and often go on to set important precedents within the healthcare industry. The CEOs highlighted on the list contribute to important research and discoveries, share their expertise with their networks, and set the overall tone for their organizations.
To view the full list, visit https://bit.ly/3Mq5sKw
About Dartmouth Health
Dartmouth Health, New Hampshire's only academic health system and the state's largest private employer, serves patients across northern New England. Dartmouth Health provides access to more than 2,000 providers in almost every area of medicine, delivering care at its flagship hospital, Dartmouth Hitchcock Medical Center (DHMC) in Lebanon, NH, as well as across its wide network of hospitals, clinics and care facilities. DHMC is consistently named the #1 hospital in New Hampshire by U.S. News & World Report, and recognized for high performance in numerous clinical specialties and procedures. Dartmouth Health includes Dartmouth Cancer Center, one of only 54 National Cancer Institute-designated Comprehensive Cancer Centers in the nation, and the only such center in northern New England; Dartmouth Health Children's, which includes Children's Hospital at Dartmouth Hitchcock Medical Center, the state's only children's hospital, and multiple clinic locations around the region; member hospitals in Lebanon, Keene and New London, NH, and Bennington and Windsor, VT; Visiting Nurse and Hospice for Vermont and New Hampshire; and more than 24 clinics that provide ambulatory services across New Hampshire and Vermont. Through its historical partnership with Dartmouth and the Geisel School of Medicine, Dartmouth Health trains nearly 400 medical residents and fellows annually, and performs cutting-edge research and clinical trials recognized across the globe with Geisel and the White River Junction VA Medical Center in White River Junction, VT. Dartmouth Health and its more than 13,000 employees are deeply committed to serving the healthcare needs of everyone in our communities, and to providing each of our patients with exceptional, personal care.